Things to do: A walk through the old inner city
Start at Karlsplatz (Stacchus) and walk down the Neuhauser straße towards Marienplatz. This picture is looking south towards the Marienplatz. on the right is McDonalds and Hugendubel the bookshop. Karlstor is one stop down from the Hauptbahnhof.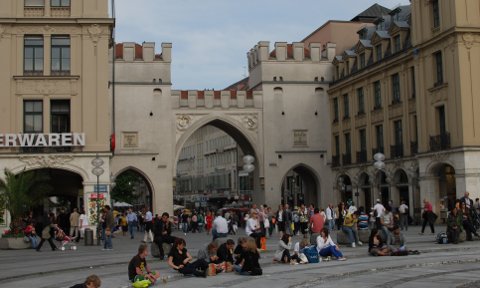 There are plenty of shops to explore and some churches along the way. If you're after some gifts to take home, there are tourist shops on the left. In the distance is the old townhall, which is now a toy museum. The large electronics store Saturn is on the right.
Then at the Marienplatz (below) you could go up Alter Peter to get a great view of the city, which is on the left out of view, have a coffee or beer in one the cafes, eat in Ratskeller which is a restauraunt under the Rathaus (building in the middle), just to bottom right of the building. The Viktuelienmarkt is just behind where I am shooting from and is well worth a visit, it's a colorful market with food stalls and a beergarden.
Or go shopping, behind the Rathaus is an excellent shopping area. Many boutiques and passages to explore, plus restaurants and cafes.